"Work smarter, not harder" is the idea contained in Oracle Fusion HCM approval workflows. By simplifying the complex processes involved in approval management, the HCM approval workflows reduce the administrative burden on Human Resource executives/managers, boosting overall HR productivity and efficiency. 
As organizations vary, so do approval processes. To fully realize the goal of a smart HR, workflows need to be configured to custom requirements. This post covers some of the benefits and best practices in configuring Oracle Fusion HCM approval workflows that I've compiled from my experience.
How We Used Oracle Fusion HCM Approval Workflows to Resolve a Business Challenge
First, a little insider story on our recent implementation: Our primary task was to streamline the Human Capital Management (HCM) processes in our client's organization. A major stumbling block was the lack of delegation of approval authority based on organizational hierarchy. In the absence of delegation, the burden of approval management was borne entirely by the HR, leading to costly delays and inefficiencies.
We set off by identifying all the frequent HCM tasks in the organization. For each task, we defined the rules for diverse scenarios and designed the approver chains. We directed the workflows through a two-level manager approval hierarchy, curtailing the HR's involvement to the final approval. We also modified role-based access, giving managers the privilege to perform actions concerning their teams and thus distributed the task liability more evenly. HR managers previously overwhelmed by approvals moved to a more supervisory role.
Benefits Achieved Using Oracle Fusion HCM Approval Workflows
Here's a quick rundown of the benefits our client achieved through our implementation of Oracle Fusion HCM approval workflows:
Minimized HR overhead: Only the final approval is required from HR executives and managers.
Reduced turnaround: The approval-related tasks became more focused and the turnaround time was considerably reduced.
Automated tasks: Tasks once initiated automatically kick-start the workflow. Human intervention or logic is not required to create approval hierarchies.
Established dynamic hierarchy: The workflow loops in all the concerned parties based on the rules and conditions of the action scenario.
Improved managerial privileges: We endowed managers with new privileges to initiate actions, dictate changes, and access useful team information.
Enhanced ownership: By channeling the workflow tasks through managers and involving them led to better accountability and sense of ownership.
Increased flexibility: HR personnel with supervisory admin role can view, modify, suspend, and withdraw tasks at any time if required.
Streamlined notifications: The notifications supply all the relevant information, including task status and approval progress. There is also provision for comments, attachments, delegation, etc.
Other Benefits Gained
Easy email notifications: Apart from the notifications on Fusion HCM, managers receive notifications via email so they can take quick action, without having to log into Oracle Fusion environment.
Status tracking: Assigning the right security roles enables privileged users to track changes. The footprints of all the active and inactive tasks can be traced in the Business Process Management (BPM) workspace.
Setting Deadlines: Some approvals require a quick response. The workflow's internal alarm clock we set up reminds the approvers of approaching deadlines through periodic notifications.
Vacation Settings: It's no fun if your urgent response is required while you're on a holiday. Activating the vacation mode automatically delegates or reassigns your tasks to the person in charge.
Emergency handling: Sometimes a submitted change needs to be corrected or canceled before it is approved. We assigned super users for such emergencies. With their security privileges, super users can modify, suspend, or withdraw active tasks as well as add or remove approvers, if required.
Best Practices for Configuring Oracle Fusion HCM Approval Workflows
1. Managing Access
Access to more actions also means access to more data, which isn't always desirable; for example, a manager who has access to employee salary management page may also have access to his or her salary history, which could be against the company policy.
To avoid this, we created a custom role for managers. We added only some of the seeded duties (duties that come pre-built) instead of assigning all the functionalities of managers. We custom-built other duties with privileges and security policies for partial access to the managerial page. Also, by selecting the appropriate security profile, we restricted the managers' access to their team members' data rather than granting them access to the entire workforce's data.
Wherever seeded roles provide more functionality and access than required, it's a good practice to create custom roles and mold them for user-specific contexts. If you are not able to create the desired restriction, page customization could be your next resort; however, page customization is not a foolproof solution.
2. Designing Workflow
Oracle Fusion Manage Approval Rules UI rule builder and the Oracle BPM (Business Process Management) tool work synchronously. I've found it easier to begin with the UI rule builder. Using its simple interface, I'd make a quick overall plot—outline the workflows for each task scenario, describe the scenario rules using task attributes, and add the approver hierarchies.
Where the UI rule builder proves insufficient, the BPM workspace helps. The latter allows more programmatic rule definitions; for example, BPM allows the use of if-else and loop constructs to iterate through user roles accurately. Furthermore, BPM task configurations allow more types of approvers and actions, which is not possible with the UI rule builder.
So the best approach for rule set up would be to make an outline of the rules and hierarchy with the Manage Approval Rules UI builder first. Then fine-tune it further using the BPM task configurations. That way, you get the best of both worlds!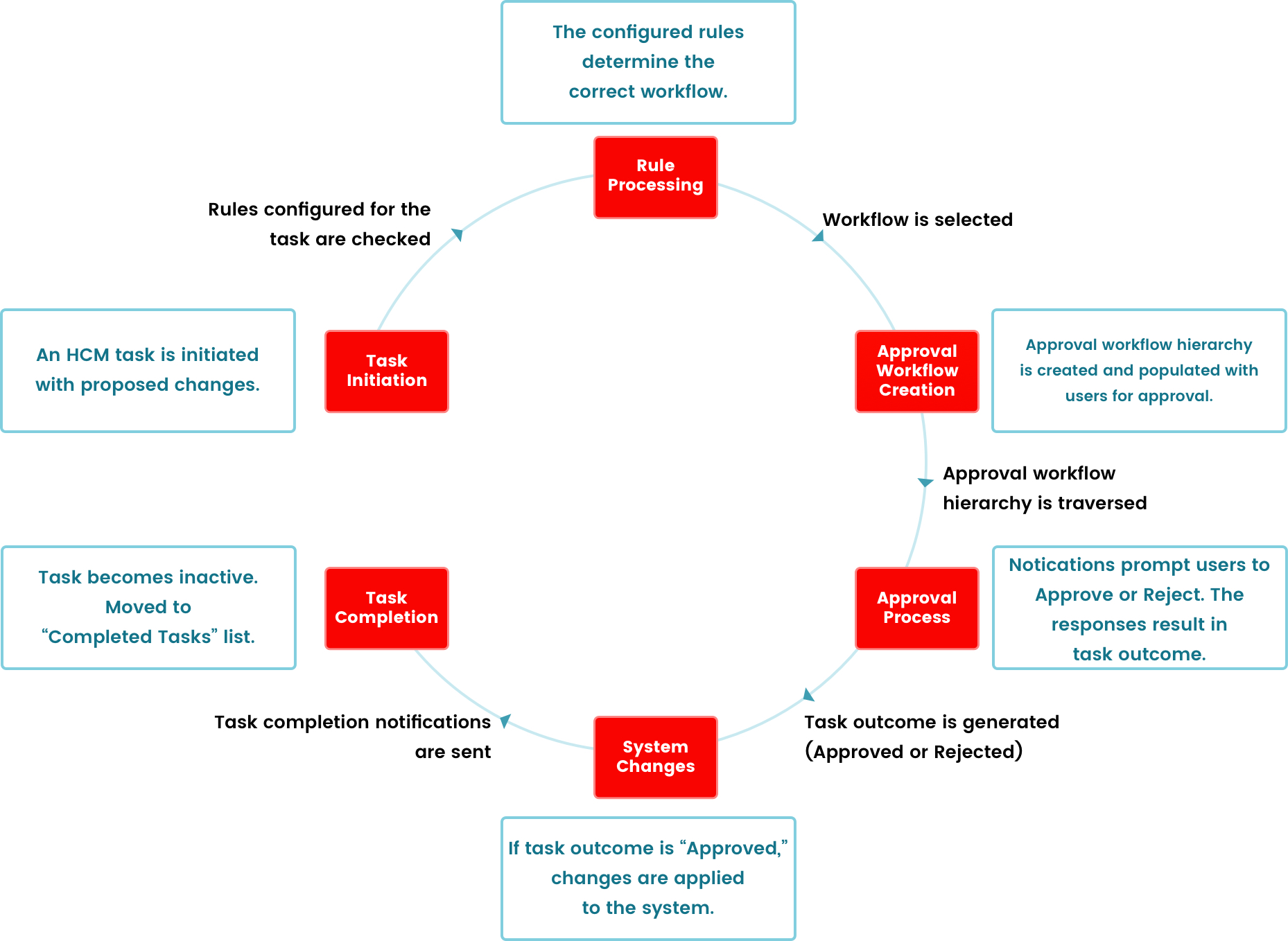 3. Customizing Notifications
More isn't better when it comes to approval notifications, which could be cluttered with information. By utilizing the "Change Layout" option, we removed inessential information from the notification page and reordered the sections to show the important details first.
Further, we added content, including the corporate logo on the top along with a link to the Fusion environment, to prove authenticity and provide easy access to users who handle approval processes via email.
The end product was notifications with only the requisite information for decision-making. Customizing the notification layout is, therefore, a good practice for improving the end- user experience.
4. Creating Emergency Workflow
It's always advisable to have one minimalistic workflow for a unique set of users for emergency purposes. For each HCM task that we worked on, one separate workflow was designed to be triggered only when an HR manager initiates it. This workflow has fewer or no approvers and will be completed soon after an action is initiated.
Now, in case of an emergency, the HR manager can make all the required changes instantly, without waiting for other users to approve the task. Although disabling and bypassing the workflows temporarily for the above scenario is an alternative, it makes for only a short-term solution.
5. Analyzing Action Scenarios
Analyze and only then execute! It's important to consider the various scenarios in which a task may be initiated in Oracle Fusion HCM; for example, there are multiple methods to change an employee's manager. It can be done using the manager self-service "Change Manager" action as well as through the "Manage Employment" page, with each option triggering a different approval workflow.
In our client's case, we identified all the pages that allowed the "Change Manager" functionality and the workflows they triggered. Then we configured all of them to follow the same approval hierarchy. Now, regardless of which navigation method is used for a manager change action, the triggered approval flow will be the same. Identifying conditions like different navigations and requestor details is a prerequisite for having a consistent workflow in Oracle HCM Fusion.
Oracle Fusion-Driven HCM Transformation
In an age where we are pressed for time and information is in excess, Oracle Fusion HCM Approval Management gives organizations the ability to make rapid and accurate decisions regarding their workforce. Our client now enjoys a well-structured approval process with responsibility uniformly distributed among managers and HR personnel. With the highly flexible and automated event handling capabilities of the Fusion HCM approval system, they no longer feel the weight of approval management.
QBurst, an Oracle Gold Partner, offers consultancy services and end-to-end Oracle HCM Cloud support for enterprises. Visit our Oracle HCM Cloud Services page to learn more.